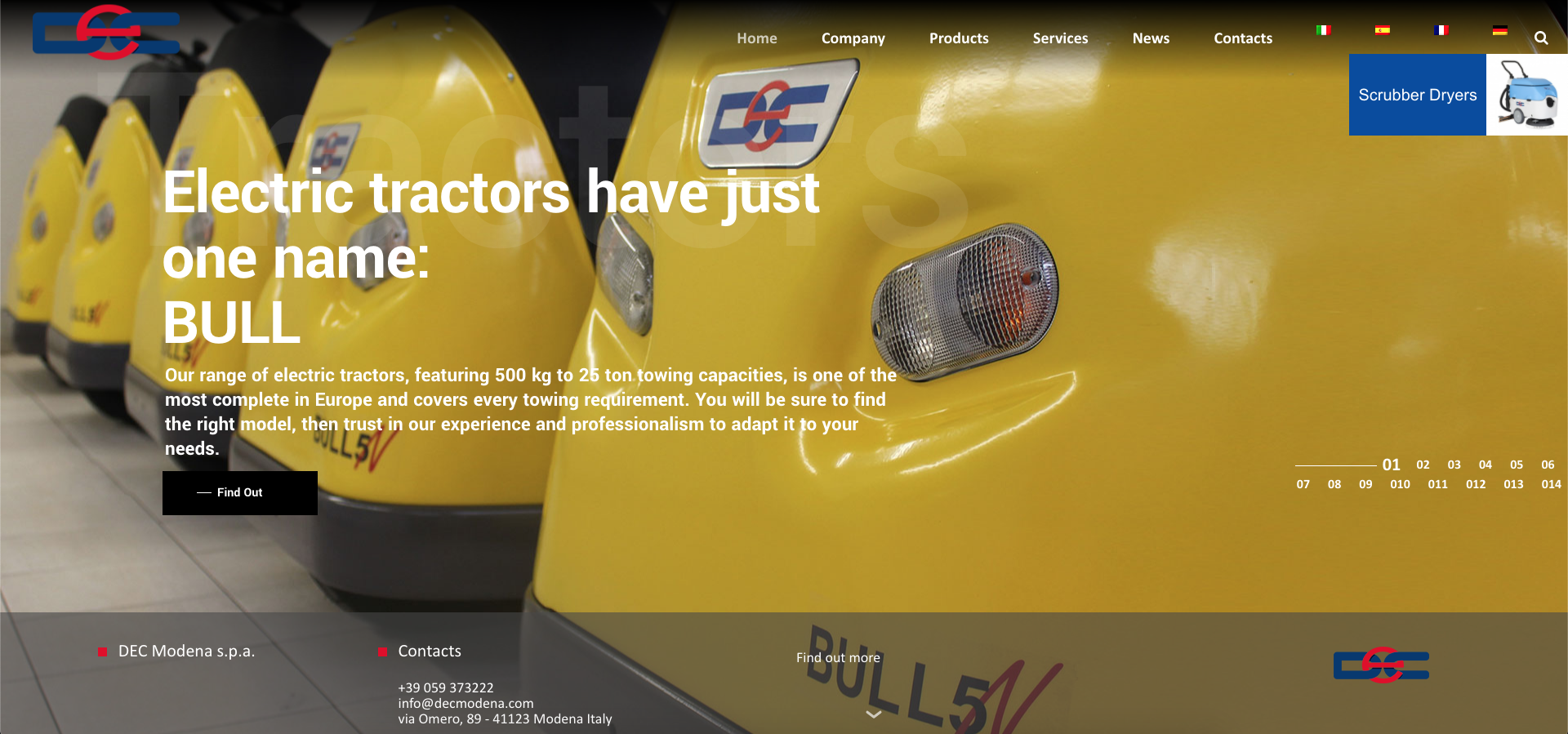 DEC electric towing tractors: the people behind the quality products
― A new website is about to be released, 50 years in the business, work is in progress on a new electric towing tractor prototype: DEC looks ahead towards its customers and takes on challenges with enthusiasm
At DEC towing tractors  technology-focused innovation for the customer  on at least 2 fronts:
research and development of increasingly customized quality  products
focus on human relations
In an endeavour to achieve increasingly faster and efficient communications, technology, most especially digitalization, often does away with real interpersonal relations.
Everyone must have asked himself, at least once, whether there was a real person or a software behind that reply in chat or via email.
DEC does not want its customers to go through that unpleasant experience.
This is why we work hard to be really present:
by using technology for that purpose (our new website is coming soon
by turning our 50 years on the market to account
by responding to new challenges from the market with new products
Let's take a look at these issues one by one.
The new website: a place for welcoming and meeting customers
When you visit the new website (online in April), you'll be able to meet the DEC staff members, get a full overview of the company and put a face to your virtual interactions.
Users will easily find what they need to know: service, products, how the electric tractors can be customized. Customizing is one of the main skills for which DEC is well known on the market.
Lots of space dedicated to products: a whole section has been dedicated to towing tractors, which are the machines best fitted for customization. They start out as basic models and are then tailored to the customer's requirements.
DEC wants customers to know that there are people behind the products. The new website will contain both these ingredients, people and products. The 2 cornerstones of the company.
DEC: 50th anniversary of the business

The desire to be partners of its customers has always been one of DEC's prime concerns.
This year, the company celebrates the  50th anniversary of the entrepreneurial experience of the Della Casa family. .
Experience that began 50 years ago when DECA Carrelli elevatori  was established and continues today with DEC spa, electric towing tractors and professional floor scrubber-dryers.
What these two enterprises have in common is a family that wants nothing better than to get down to business and accept challenges.
The two companies, DECA and DEC, also share the same target market, logistics, o which the founder family has dedicated its attention for the past 50 years.
Over the years, the logistics industry has changed and the market has evolved. DEC has always kept pace with all the new requirements by offering first vertical handling equipment (lift trucks) and then horizontal handling equipment (towing tractors).
Supplying the trade with towing tractors was a challenge the company took on and won!
When DEC was established, its core product was  professional scrubber-dryers , to suit the requirements of customers which, as DECA, it had always supplied lift trucks.
Industrial cleaning is a requirement shared by all companies, especially those with storage facilities or workshops where goods are handled.
The decision to produce electric tractors was inspired by the needs expressed by certain customers.
A challenge that DEC was eager to accept, beginning with two particularly demanding areas of interest: the horticultural and hospital sectors.
The first tractors developed by DEC were also designed to operate in indoor environments with particular hygiene needs, where delicate goods would be handled. The tractors were so successful and appreciated by the customers that DEC decided to re-assess its logistic product and focus on electric tractors.
Coming soon, the new BULL TR25
DEC has always paid attention to market demands and those of its customers.
New electric tractor models are added to the range each year. The company is currently working on the new Bull TR25, a project inspired by requests from the customers.
This 25-ton Bull adds to a range of electric tractors that until now, included models with up to 10-ton loading capacities, and targets on a market segment that was previously the prerogative of the major international manufacturers.
"We decided to take up this challenge because we were urged to do so by our customers and for us, that was a very important token of esteem  that deserved to be considered – explained Pierluigi Cinquegrano, Sales Manager of DEC spa – In addition, as testified by our 50 years in the business, DEC is always ready to accept challenges, backed by a strong record of success and the enthusiasm of the new generation that actively looks to the future".
Electric towing tractor Bull TR25 will be available after summer.
.
For further details:
DEC Spa – via Omero, 89
41123 Modena Italy
tel: +39 059 373222
fax: +39 059 374199
email: info@decmodena.com